Cosmetic Dermatology
We offer a variety of cosmetic treatments and procedures to fit you and your aesthetic goals. Our skilled physicians work with you to understand your needs and concerns and select the cosmetic options that will best help you attain your goals.
The following are some of the cosmetic dermatology services we offer. If you would like to schedule a consultation, please call 443-841-1978 or email [email protected] to schedule an appointment with one of our providers.​
HydraFacial
New in Spring 2021!
The HydraFacial treatment is a non-invasive treatment that provides instant results for all skin types with no downtime. The HydraFacial is a (30 – 60 min) treatment that removes dead skin cells and extracts impurities while simultaneously delivering the skin with cleansing, hydrating and moisturizing serums. The treatment is soothing, refreshing, non-irritating and immediately effective.
Hydration is the foundation of healthy, radiant skin. Irritation of the skin has been proven to increase signs of aging. HydraFacial is a hydrating and non-irritating treatment.
Candidates:
The HydraFacial treatment is designed for all skin types. Even the most sensitive skin easily tolerates the HydraFacial treatment. Your physician or skincare professional may choose specific treatment serums and/or customize the treatment for your unique skin conditions and needs.
Length of Procedure:
HydraFacial is a fast, efficient treatment that takes as little as 30 minutes.
Recovery, Risks, & Results:
You may put on makeup and return to your normal activities right after the treatment since there is no downtime.
Many clients report seeing visible skin refinement and an even, radiant skin tone after just one treatment. The smooth results and hydration may last 5 to 7 days or even longer.
One treatment per month is recommended for improving the appearance of fine lines, wrinkles, brow spots, oily and congested skin. Continued HydraFacial treatments are highly recommended to maintain skin health results.
See the results of HydraFacial on common skin concerns our patients have!

HydraFacial for Brown Spots

HydraFacial for Fine Lines

HydraFacial for Oily & Congested Skin
HydraFacial is now available in our office! Call our office to learn more about it and schedule your treatment.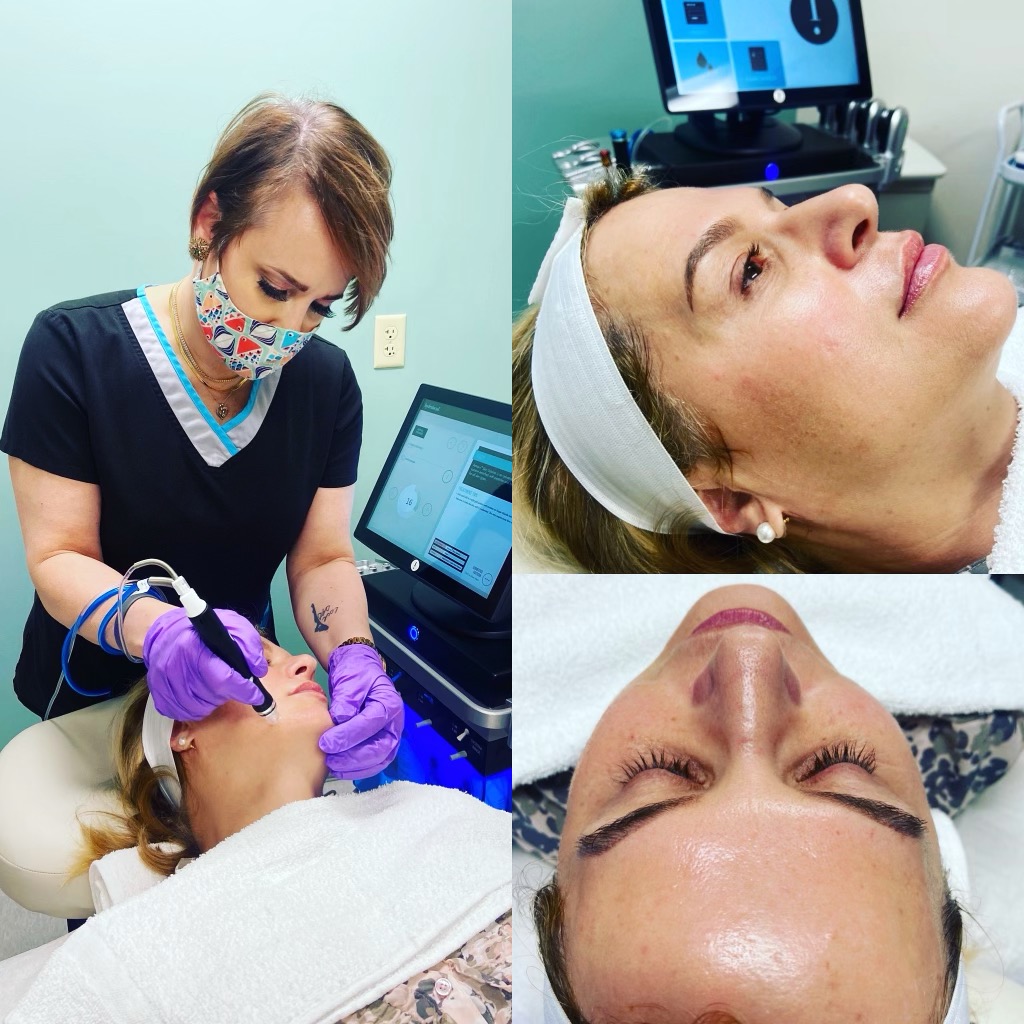 Botox & Dysport
Botox is a simple, non-surgical procedure that smoothes the deep, persistent lines and wrinkles that develop over time. Millions of men and women worldwide, benefit from Botox/Dysport Cosmetic treatments every year.
Botox and Dysport are FDA-approved prescription product that improves the appearance of fine lines and wrinkles. It was originally created as a useful treatment for many neurological conditions but was later discovered to smooth and soften patients' eyes, foreheads, and surrounding areas. It is a purified protein that is administered at very low doses to reduce muscles contractions in the face. By selectively weakening the proper muscles. The results are dramatic but it does not radically change your facial appearance.
As we age, our skin becomes thinner, drier and less elastic. Our skin's ability to protect itself from damage decreases with age. Botox and Dysport has proven to be a safe and effective way to treat aging skin with wrinkles and creases.

Candidates:
Men and women who are starting to see the signs of aging on their face
Individuals 18 and older
Non-pregnant or non-breastfeeding women
Individuals with no neurological disorders or diseases, which may affect their muscle activity
Procedure:
Botox and Dysport treatments can be performed in a number of locations, including between your browns (glabella), eye area (crow's feet), forehead and perioral lines. It can also be used to treat excessive sweating of the hands or underarms.
Treatment consists of a number of tiny injections made through a very fine needle directly into specific muscles just under the skin. It does not require anesthesia and does not cause pain, only minor discomfort. We use ice to help with the discomfort and to reduce bruising after.

Length of Procedure
The process of Botox and Dysport Cosmetic are relatively quick and requires almost no time for recovery. Normal activities may be resumed immediately, but strenuous exercise should be avoided for the first 12-24 hours. Massaging of the treated area is not recommended as it may result in drooping from dispersing of the medication. There may be minor pain and swelling, almost like tiny bee stings, at the injection sites. These injection sites will resolve. There is also a possibility of bruising, which can take 7-14 days to resolve. Overall, Botox and Dysport are safe and effective but is not for everyone. Speak to a medical professional deciding if Botox or Dysport is right for you.

Recovery, Risks, and Results
Effects of the injections begin to appear within 4-7 days but the full effect may take up to 2-3 weeks. The results generally last around two to four months, after which time, the injections must be repeated. The reason repeated treatments are recommended is because muscle action eventually returns which causes the wrinkles to reappear. With repeated treatments you will notice wrinkles and lines become less severe because your muscles are unable to contract.
Restylane
Restylane® and Restylane-L®
These are for mid-to-deep injection into the facial tissue for the correction of moderate to severe facial wrinkles and folds, such as nasolabial folds. Restylane® and Restylane-L® are also indicated for injection into the lips in patients over the age of 21.
Restylane® Silk
This is for lip augmentation and for correction of perioral wrinkles in patients over the age of 21.
Restylane® Refyne
This is for mid-to-deep injection into the facial tissue for the correction of moderate to severe facial wrinkles and folds, such as nasolabial folds, in patients over the age of 21.
Restylane® Defyne
This is for mid-to-deep injection into the facial tissue for the correction of moderate to severe deep facial wrinkles and folds, such as nasolabial folds, in patients over the age of 21.
Restylane® Lyft
Restylane Lyft is a non-surgical, FDA-approved facial filler used exclusively to add volume and definition to the cheeks and mid-face area. By smoothing smile lines and filling hollow cheekbones, Restylane Lyft gives patients a younger appearance, more natural features, and a fuller face.
Candidates
Men or women with mid-face and cheek deficiencies
Procedure
Restylane Lyft contains hyaluronic acid, a naturally occurring substance that gives the skin volume and fullness. Restylane Lyft gel is injected into the cheeks or mid-face area during a quick, twenty-minute procedure. Ice is applied to minimize any pain.
Recovery, Risks, and Results
Side effects are minimal and include bruising, redness, swelling, pain,tenderness and itching, which typically resolve after two weeks. Most patients return to work or normal activities immediately after the procedure.
During clinical trials, 95% of patients saw improvement two months after treatment and 73% of patients saw improvement twelve months after treatment. Many patients report results lasting up to eighteen months after treatment.
To ensure a safe procedure, your doctor will talk to you about your medical history to determine if you are an appropriate candidate for treatment.
Latisse
Latisse is an FDA-approved, prescription-only treatment that's designed to promote lash grow for longer, darker, and thicker-looking eyelashes. Latisse has been on the market since 2008, making it one of the most trusted eyelash-extending solutions available today.
Latisse works in two ways:
It extends the growth cycle of the eyelashes.
It increases the overall number of eyelash follicles.
With these two mechanisms, Latisse users see thicker and longer lashes within four months.
Candidates
Men and women who want thicker, longer, and darker-looking eyelashes or eyebrows.
Procedure
Latisse isn't administered in a procedure; instead, it's a prescription treatment that you perform at home before going to bed. Latisse is administered from a dropper bottle to a small applicator brush and applied along the upper eyelashes or to the eyebrows.
Recovery, Risks, and Results
If you're a candidate for Latisse, it carries minimal side effects. However, some patients do experience redness or irritation to the application area. In very rare cases, Latisse can cause darkening of the eyelid skin.
With regular use, you should see improvement after two months, with optimal results visible after four months.
Intense Pulsed Light (IPL)
IPL can be used for laser hair reduction (upper lip, chin, sideburns, arms, legs, underarm, bikini area, face, back of the neck, fingers, ears) as well as for reducing the appearance of brown or red spots and redness on the face.
Excessive Hair
Laser hair reduction is more than just "zapping" unwanted hair. It is medical procedure that requires training to perform and carries potential risks. Before getting laser hair reduction, you should thoroughly check the credentials of the doctor or technician performing the procedure.
If you are planning on undergoing laser hair reduction, you should limit plucking, waxing, and electrolysis for six weeks before treatment. That's because the laser targets the hair's roots, which are temporarily removed by waxing or plucking.
You should avoid sun exposure for six weeks before and after treatment. Sun exposure makes laser hair reduction less effective and makes complications after treatment more likely.
Just before the procedure, your hair that will be undergoing treatment should be trimmed/shaved. The laser equipment will be adjusted according to the color, thickness and location of your hair being treated as well as your skin color.
Pigmented Lesions – Brown Spots or Red Spots.
Anytime you are about to be treated for a brown or red spot, the first thing you require is a good examination by a physician. It is very important to ensure that there are no signs of a skin cancer. Although rare, this is something that cannot be missed.
Another important consideration is that IPL is not the best treatment for moles. It can work, but it is not always the best first treatment. They can treat other brown spots, but not common moles.
Melasma (dark spots that form on the skin) and lentigenes (age related brown spots) can be treated with IPL. Numerous studies have demonstrated that it is effective for this.
Rosacea
With rosacea, people notice redness across their nose and cheeks. In addition to this, you can notice small "telangiectasias" which are small little blood vessels on the skin. IPL has demonstrated anywhere from 50-80% reduction in these lesions when treating Rosacea. This results in people having less redness and fewer telangiectasias.
Microneedling
Microneedling is often used to reduce the look of scars and fine wrinkles. Microneedling is also called Collagen P.I.N. (Percutaneous Induction Needling). It is a method of inducing a controlled injury into the skin's dermal and epidermal junction which induces growth actors, new collagen and elastin. This process causes much less damage to the epidermis than dermal rolling, lasers or any ablative treatment. Thus, protecting the skin's cell growth making for quicker healing and higher rates of success.

Main Benefits:
Decrease in the appearance of fine lines and wrinkles
Reduction of acne and scars
Smoothing of skin texture
Improvement of hyperpigmentation
Fading of stretch marks
Improving skin tones
Skin Tag Removal

A skin tag is a common type of skin growth that looks like a piece of hanging skin and most often develops on the neck, underarms, eyelids and under the breasts often as a result of clothing rubbing against the skin. While skin tags are not cancerous and don't cause problems unless they are continuously irritated, many people choose to have them removed through freezing, burning or surgical excision.
Cherry Angiomas Removal

This is a benign (noncancerous) growth on the skin surface that comprises of blood vessels. Many people suffer from these growths at a later stage of their life, with the onset generally occurring at an age of over 40. However, younger people can also get these growths.